Cool Player
| | |
| --- | --- |
| Decoder Source: | http://www.daansystems.com/coolplayer/ |
| Version: | build 7782 © 2000 DaanSystems |
| Price: | Free |
| Settings: | none |
| Similar products: | Uses the Xaudio decoding engine |
| Verdict: | Very Good |
| VBR: | All |
| Full file: | Always |
| Major Flaws: | none |
| Minor Flaws: | Audible drop out with lame encoded tone sweep, possible high frequency error decoding blade files |
| Output level: | correct |
| 1-bit relative accuracy: | Excellent |
| 1-bit absolute accuracy: | Excellent |
Cool Player is a compact mp3 player - the download is less than 200kB! The player can decode mp3 files to wavs by selecting the "output to file" option - see screenshots.
Cool Player uses the Xaudio mp3 decoding engine. Xaudio has a slight problem with a particular lame encoded tone sweep (probably related to the 8191 / 100Hz bug), and disagrees with the latest mp3 decoders when decoding a Blade encoded file. However, the differences between the old decoders (l3dec, Xaudio etc) and the newer ones ACM 1999, lame etc) are tiny (-70dB), and mainly above 20kHz.
Cool Player itself makes no mistakes, beyond those due to the Xaudio decoding engine. A later version of Cool Player (build 8006) offers the choice of a MAD decoder plug-in, which will remedy the noted decoding bugs, but will clip the end off most files. For perfect decodes you must look elsewhere, however at less than 200kB, Cool Player is a very attractive download.
Screenshots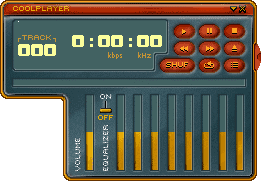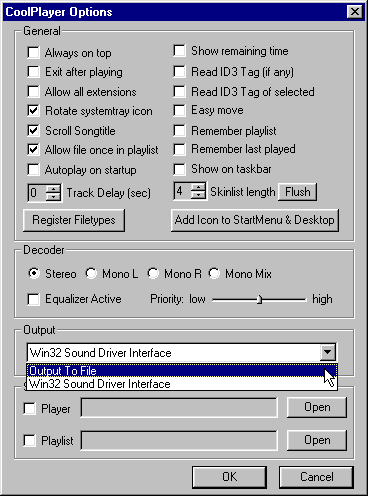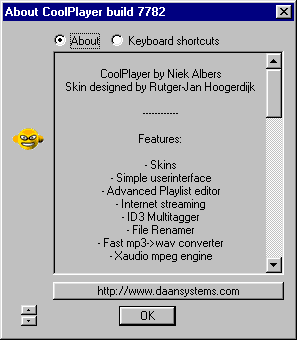 Return to the list of decoders.
---