Overall test results
The combined results of all the mp3 decoder tests are presented in this final table.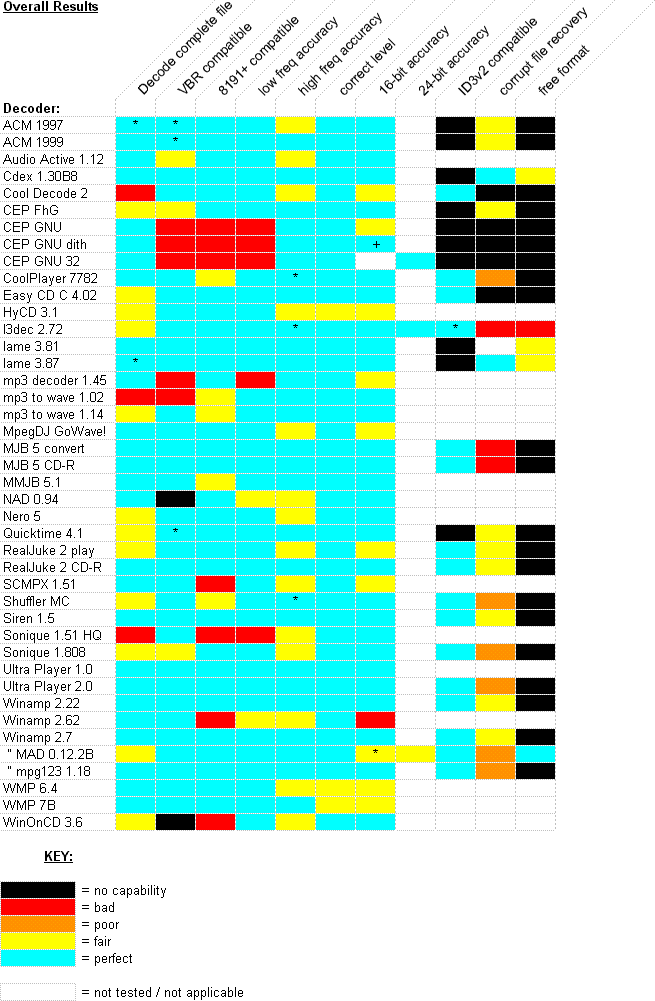 The first seven columns show essential features which every decoder should pass.
The last four columns show optional features.
* indicates that performance may be worse under certain conditions - see individual test.
What are the important results overall?
Do we care?!
Ten decoders performed faultlessly throughout the essential tests. Of the others, some made small errors decoding a few mp3 files, others made audible errors, while others refused to decode some files. If there is a problem with the decoder you currently use, but the above table doesn't give enough information, take a look at the individual tests to discover its faults. See also the Individual Decoder Results.
If you want a guaranteed perfect decode every time, choose one of the ten recommended decoders.
How was this test carried out?
A wave file was encoded using various mp3 encoders. Each mp3 file was decoded using various mp3 decoders. For each mp3 file, the decoded versions were compared to discover which decoders were operating correctly. Details can be found in the sections on the individual tests, while the test methodology section goes into more depth and mentions the software tools used throughout.
Is this test reliable?
To the best of my knowledge, this test is unbiased and correct. Whether you can hear the errors in the output of certain decoders is debatable - however, the decoding errors described here are real, measurable, and repeatable.
Please see the general FAQ or the FAQ section at the end of each test.
---