Ultra Player 2.00
| | |
| --- | --- |
| Decoder Source: | UltraCo http://www.ultraplayer.com/ |
| Version: | v2.00 © 1999,2000 UltraCo, Inc. |
| Price: | free |
| Settings: | none |
| Similar products: | no decoder changes since previous version. |
| Verdict: | Excellent |
| VBR: | All |
| Full file: | Always |
| Major Flaws: | none |
| Minor Flaws: | Incompatible with Total Recorder |
| Output level: | correct |
| 1-bit relative accuracy: | Excellent |
| 1-bit absolute accuracy: | Excellent |
Version 2 of UltraPlayer brings... well, you can read the UltraPlayer website for all that. Version 2.112 no longer includes annoying adverts when you change functions - that's a worthwhile improvement!
We tested version 2 of Ultra Player thoroughly, and found the current version to be just as good as the first - it decodes perfectly. Decoding mp3s to wavs is as simple as right-clicking on a file in the playlist, and selecting "Save as WAV file". The playback quality is also perfect. A strong rival to Winamp and Highly recommended.
EXTRA NOTES:
The ultraplayer website refers to our test of version 1 here.
Screenshots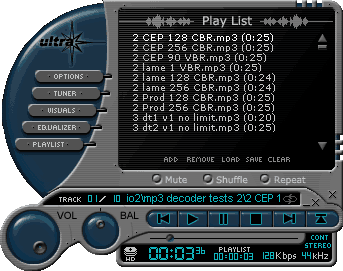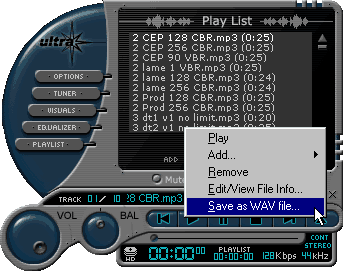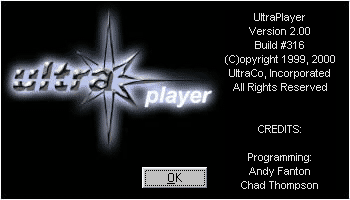 Return to the list of decoders.
---
Ultra Player 1.00
| | |
| --- | --- |
| Decoder Source: | UltraCo http://www.ultraplayer.com/ |
| Version: | v1.00 © 1999,2000 UltraCo, Inc. |
| Price: | free |
| Settings: | none |
| Similar products: | Ultraplayer's Neutrino(TM) MPEG Audio Decoder matches the output of mpg123 very well. |
| Verdict: | Excellent |
| VBR: | All |
| Full file: | Always |
| Major Flaws: | none |
| Minor Flaws: | Incompatible with Total Recorder |
| Output level: | correct |
| 1-bit relative accuracy: | Excellent |
| 1-bit absolute accuracy: | Excellent |
Ultra Player is a new audio player in competition with Winamp. To decode mp3 files, you right-click on a file in the Ultra Player playlist, and select "Save as WAV". This worked faultlessly throughout all our tests. No glitches, and never more than 1-bit away from l3dec. (Very rarely even 1-bit away from mpg123 - Ultraplayer say this is because they both follow the ISO specification very closely.)
Ultra Player shows you a brief advert within the playlist area whenever you change function, and it is incompatible with Total Recorder. However, these are small problems with a free piece of software that decodes mp3s perfectly. Highly Recommended.
Screenshots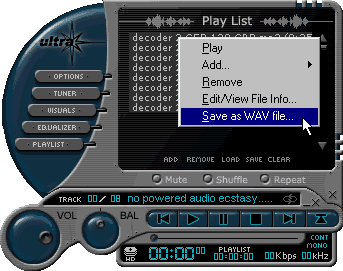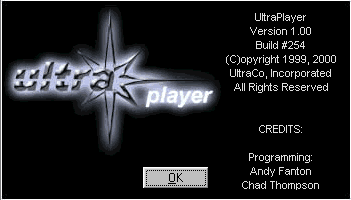 Return to the list of decoders.
---