Winamp 2.7
| | |
| --- | --- |
| Decoder Source: | http://www.winamp.com/ |
| Version: | 2.7 Nov 14 2000 © 1997-2000 Nullsoft, Inc. |
| Price: | free |
| Settings: | none |
| Similar products: | Previous Winamp versions have a very different decoder. |
| Verdict: | Excellent |
| VBR: | All |
| Full file: | Always |
| Major Flaws: | none |
| Minor Flaws: | none |
| Output level: | correct |
| 1-bit relative accuracy: | Excellent |
| 1-bit absolute accuracy: | Excellent |
Winamp is the most popular software mp3 player. By going into the preferences menu, and selecting the Disk Writer output plug-in, it will save mp3 files to disk as wave files (to specify where to save the file, hit the configure button after selecting the plug-in). See screenshots for further details.
With version 2.666, Nullsoft finally dumped the buggy Nitrane decoder, and switched to a decoder apparently based on code from the inventors of mp3 (FhG). Winamp hasn't had a decent mp3 decoder since version 2.22, when the company briefly switched from Nitrane to FhG code. It's good to see that Nullsoft have finally listened to users complaints, but how good is this latest Winamp decoder?
The good news for everyone (apart from Winamp's competitors) is that version 2.7 of the Winamp MPEG audio decoder handles mp3 files faultlessly, and passed all our essential tests. Gone are the innacurate decodes, gone are the high frequency errors, and gone are all traces of the 8191+/100hz bug. The result is an excellent decoder which (unlike the patches that we had to use previously) integrates perfectly into the worlds most popular mp3 player.
Let's just hope that in future versions the winamp programmers don't break their excellent new decoder in the quest for lower CPU usage or more features. After the years of complaints about decoder quality, I hope they won't dare. Highly recommended. If you're using a version of Winamp below 2.666, download the latest version now!
EXTRA NOTES:
There is one possible reason not to upgrade. Version 2.6 was the last version that allowed you to decode all .wma files to .wavs. From version 2.61 this feature was removed. If you have version 2.6, and need this feature, either install the latest version in a different folder from v2.6, or backup in_wm.dll from v2.6 and copy it over the version supplied with v2.7. You may experience problems playing future WMA files using the older in_wm.dll decoder.
Screenshots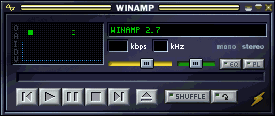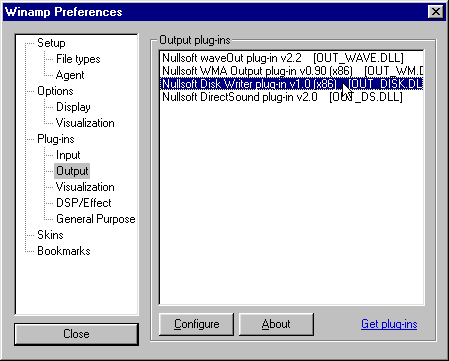 To decode mp3 file to wav files using Winamp:
Hold down CTRL and press P to bring up the Winamp preferences box (shown above).
On the left, select Plug-ins: Output.
On the right, select the Nullsoft Disk Writer plug-in.
Click Configure (at the bottom) to set the destination directory for the .wav files.
Click Close
"play" your mp3 files as normal. No sound will come out, but they will be decoded to .wavs.
REMEMBER to go back to the preferences and switch back to the Nullsoft waveOut plug-in when you've finished decoding.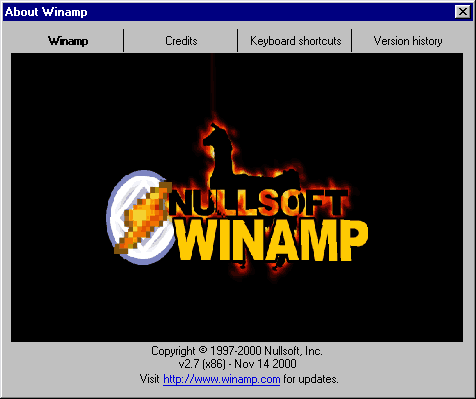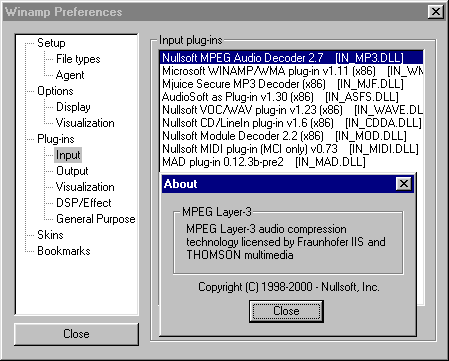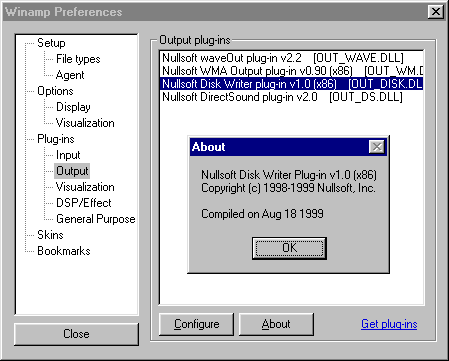 Return to the list of decoders.
---