Easy CD Creator Deluxe
| | |
| --- | --- |
| Decoder Source: | Adaptec http://www.adaptec.com/products/overview/ecdc.html |
| Version: | v4.02 (285) © 1995-2000 Adaptec Corporation |
| Price: | $99 |
| Settings: | Disc-at-Once |
| Similar products: | The none "Deluxe" version that is bundled with many CD recorders may not support mp3s. |
| Verdict: | Very Good |
| VBR: | All |
| Full file: | Sometimes |
| Major Flaws: | none |
| Minor Flaws: | end clipped off many files |
| Output level: | correct |
| 1-bit relative accuracy: | Excellent |
| 1-bit absolute accuracy: | Excellent |
Easy CD Creator from Adaptec is probably the most popular CD writing software, helped no doubt by the bundling of the basic package with many CD Recorders. For $99 you can buy the "Deluxe" version, which offers additional features, including the ability to record mp3 files directly to audio CD. The software decodes the files in real-time as you write to the CD, so no large .wavs are created on your hard disc. To test the quality of the decoding routine, the test mp3s were burnt to CD-R using the "Audio CD" program within Easy CD Creator Deluxe. For more details, see test methodology. Easy CD Creator is sometimes referred to as "ECD" for short.
Easy CD Creator deluxe uses the ACM 1999 codec to decode mp3s. This codec performs faultlessly, though be warned: If you have an older ACM codec already installed on your machine, the Easy CD Creator Installer may choose NOT to overwrite it. If this happens, Easy CD Creator will decode mp3s using your older 1997 ACM codec, giving slight high frequency errors. For more details, please see the notes on ACM mp3 codecs.
The only problem with ECD is that is often clips the ends off files. Typically around 2000 samples go astray (about 1/20th of a second). See the full decode test for more details.
In Conclusion, ECD can't be recommended as a perfect way of burning mp3 files to audio CD because it clips the end off many files. If this doesn't bother you, then Easy CD Creator is a suitable choice for on-the-fly mp3 to audio CD transfer. Please see the FAQ entry about recording mp3s to audio CD for more details.
EXTRA NOTES:
The previous review of ECD which appeared here was incorrect due to an older ACM codec being present on my system.
Clipping the end off certain files may be system (and in particular CD-writer) dependent.
I had no success writing mp3 files in Track-at-Once mode - the writing process failed after a few tracks. I had no problems using the Disc-at-once mode, which is recommended for audio CDs.
Easy CD Creator Deluxe 4 was provided free of charge by Adaptec UK for review purposes.
Screenshots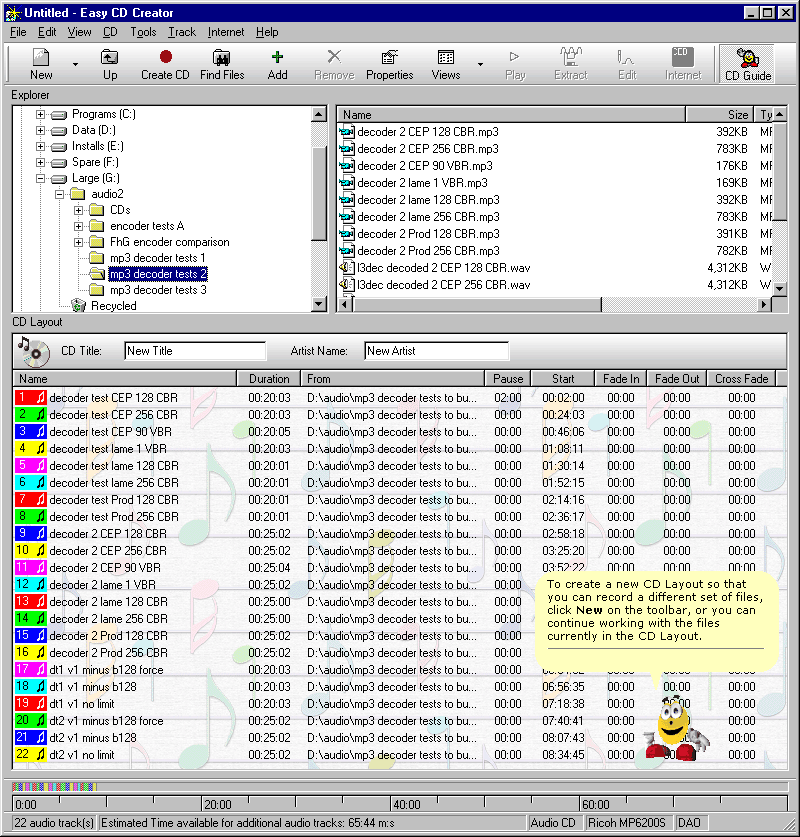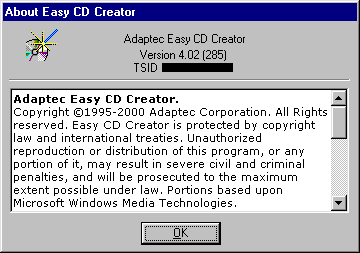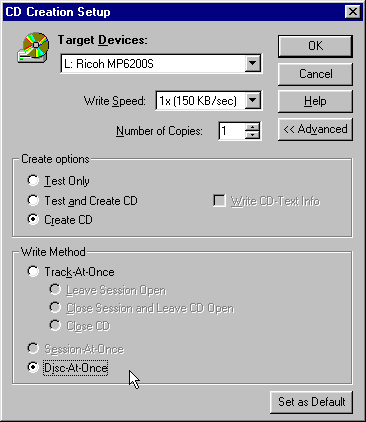 Return to the list of decoders.
---