HyCD Pro Sampler
Decoder Source:
HyCD http://www.HyCD.com

Version:
v3.1.0503

Price:

$19.99

(10 day free demo available)

Settings:
custom, stereo, 16-bit, no TDS

Similar products:
None. mp3 encoding licensed from FhG..

Verdict:
Good
VBR:

All

Full file:

Sometimes

Major Flaws:

None

Minor Flaws:

slight problems above 15kHz

Output level:

fractionally too low on both channels

1-bit relative accuracy:

not measurable due to level difference

1-bit absolute accuracy:

Poor
HyCD is a full featured CD-R production package that also happens to convert mp3 files to waves. It alters the volume of the signal very slightly (0.08dB!), and this hinders its low level performance. It also makes occasional mistakes above 16kHz. The worst feature (IMHO) is its ability to lock up your entire system upon entering windows!!! To the novice, this makes your PC unusable. To the experienced user, this should cause you to do a rapid uninstall, if you can get your PC to run at all! (Hit CTRL+ALT+DELETE just as the start-up screen runs to kill "play+record", and you will enter Windows without problems). The authors know about this bug (presumably it doesn't affect everyone!) and give the following information at the very end of the FAQ on their website:
Trouble Shooting

[Unrelated FAQ entries cut]

I just downloaded your 10 day free trial software. The installation put HyCD in my startup. When I bootup it freezes my computer. I started the system in safe mode and removed the program from startup. But now when I click on HyCD, it just freezes my computer. I have to crash to reboot.

edit the file in Windows directory called system.ini
delete [vcache] section(minfilecache, maxfilecache) in the system.ini file.
save it and reboot the system.
Use the latest version instead of the older version.
Screenshots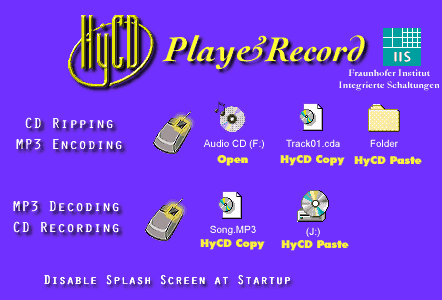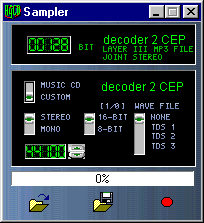 Most functions of HyCD are accessed by right-clicking on files within Windows Explorer. It can decode mp3 files on-the-fly, i.e. as they are written to an audio CD. However, we tested the decoding quality of the HyCD sampler utility, which can decode an mp3 file to a wave file, without writing to a CD. We presume the same decoding results would be obtained when writing directly to a CD, but this feature was not tested.
Return to the list of decoders.
---