MusicMatch Jukebox
Decoder Source:
MusicMatch http://www.musicmatch.com/

Version:
v5.10.0118 © 1998-2000 MusicMatch

Price:

free

($29.99 for plus version which gives a few extra features not relevant to this test)

Settings:
none

Similar products:
uses Xaudio MPEG Audio Engine © 1996-2000 by InterTrust Technologies Corporation

Verdict:
Very Good
VBR:

All

Full file:

Always

Major Flaws:

none

Minor Flaws:

audible drop-out with lame encoded tone sweep

Output level:

correct

1-bit relative accuracy:

Excellent

1-bit absolute accuracy:

Excellent
Music Match Jukebox has come in for a lot of criticism in the past, but it did well in these tests. It seems to do everything: It'll copy files from CD to your PC, mp3 encode them for you, organise your music collection, play mp3s, decode them to waves, and burn CDs. And that's just the free version! (I didn't register - it wasn't relevant to this test). To decode mp3 files, select Options: File: Convert, select the source data type as "MP3", select the source directory containing your mp3 files, Highlight the files you wish to convert, and click Start. See screenshots for details.
It passed all tests perfectly, except for a strange fault that showed itself with lame encoded files. Whilst lame files give certain decoders a hard time, this particular fault was only shown by Music Match Jukebox, and mp3 to wave, both of which use the Xaudio MPEG Audio Engine. The following image shows part of the frequency sweep, as decoded by MMJB.

The frequency is 1.4kHz. The drop out is barely audible, but why does it happen? If you only use MMJB with its own files, you should have no problems: the built-in encoder is the same one used in the CEP MP3 me plug-in, and mp3 files produced by this software were decoded faultlessly by MMJB. However, if you're looking for a perfect decoder for all mp3 files, then you should look elsewhere.
Xaudio are currently tracking down this problem, and an update may be available within a few months.
Screenshots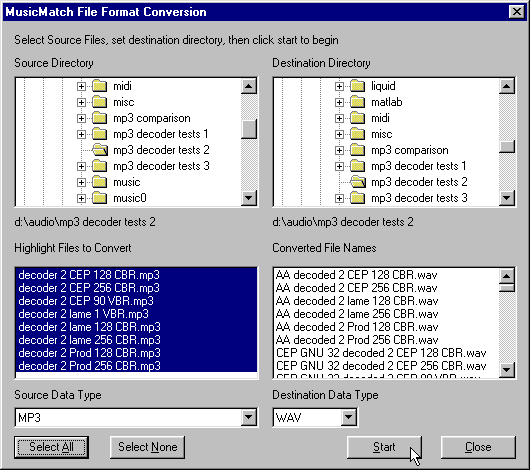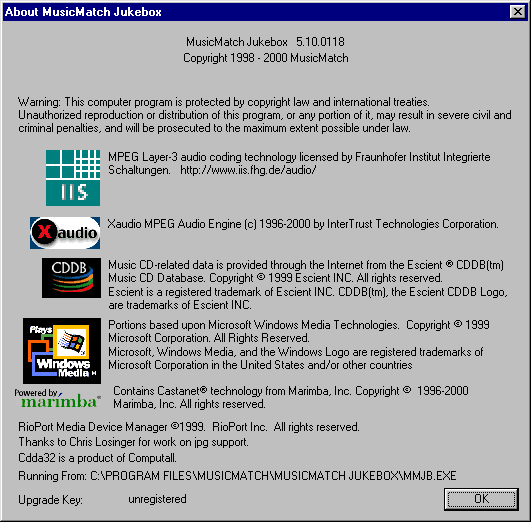 Return to the list of decoders.
---