Windows Media Player 7 BETA
| | |
| --- | --- |
| Decoder Source: | Microsoft http://www.microsoft.com/ |
| Version: | 7.00.00.1304 BETA © 1992-2000 Microsoft Corp. |
| Price: | free |
| Settings: | none |
| Similar products: | the final release is very similar. |
| Verdict: | Very Good |
| VBR: | All |
| Full file: | Always |
| Major Flaws: | doesn't run on Windows 95 :-( |
| Minor Flaws: | output level... |
| Output level: | too low on right channel |
| 1-bit relative accuracy: | Fair |
| 1-bit absolute accuracy: | Fair |
Windows Media Player 7 BETA is Microsoft's answer to the likes of MusicMatch Jukebox - an all in one solution to your audio needs - though Windows Media Player does video too! It only encodes Windows Media Audio, and it doesn't run on Windows 95. Rather than upgrading to 98, I just used another PC in the research lab that already has it installed.
Performance wise, version 7 BETA is a slight improvement over 6.4. The high frequency errors have been fixed, and the only remaining problem is the volume and balance controls - there's still no centre setting! The setting that looks like centre pushes the audio slightly to the left by reducing the level of the right channel slightly. Please sort it out Microsoft!
Apart from this minor problem (and the fact that it's visually HUGE) Windows Media Player 7 BETA is an excellent quality mp3 player. If this is the type of product you're looking for, you'll have to decide between this and MusicMatch Jukebox - the former is audio only, but encodes mp3s; WMP 7B does video, has its own content, but ties you to encoding inferior quality Windows Media Audio files. The choice is yours!
EXTRA NOTE: Windows Media Player 7 will burn CDs for you. I had hoped to test this function separately, since it will probably be free of the LSB errors (these may be due to DirectSound). However, the CD burning process was incompatible with my CD writer.
Screenshots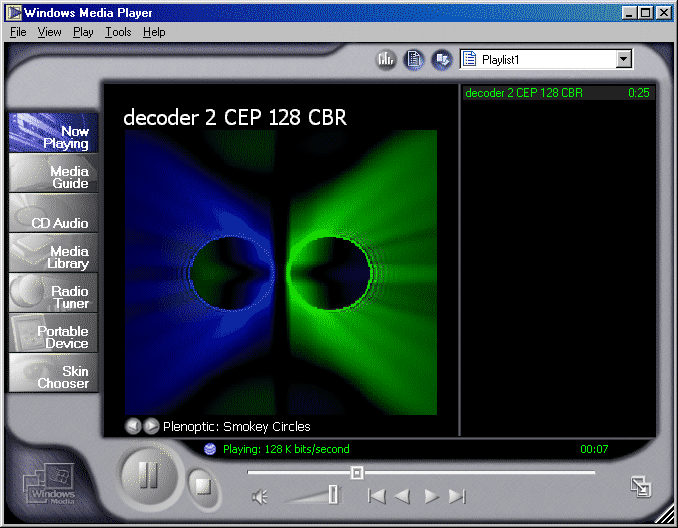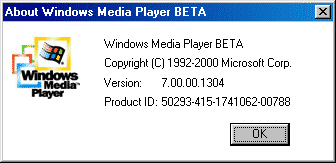 Return to the list of decoders.
---